All of us Pakistanis know that our beloved country is facing and already suffering from a lot of environmental issues and problems with no solution in sight, from all types of pollution to degradation of the environment to anthropogenic activities that destroy the environment to illegal hunting and poaching to improper or illegal extraction of resources to Climate change, we have seen and experienced all and we continue to fight with all of these issues without any or very little progress. We all know issues such as types of pollution faced by Pakistan, however there are some environmental concerns that are not very often discussed, which we have documented.
Pakistan is a country overwhelmed by environment related problems and considering the fact that we are one of the top most vulnerable countries to the effects of climate change, things are likely going to get worse if the general public as well as the government doesn't focus their attentions on first acknowledging and reaslising and then working towards solving these issues.
So we are going to play our part in helping the people of Pakistan and the government officials "realising and acknowledging" the issues present in our beloved country of Pakistan, hence here is the list of Environmental Issues In Pakistan with details upon clicking the issues..
I hope you all liked this post! Please comment below if you have any suggestions, comments, or feedback! We at #envpk love hearing from our readers! Thanks!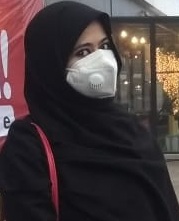 Founder of Envpk.com. A passionate environmentalist and researcher by education and at heart. A proud tree-hugger.
#SaveEarth #GoGreen