Geography of Pakistan
Pakistan is located in South East Asia that covers 880,000 square kilometers of land area. The neighboring countries include China, India, Iran, and Afghanistan. The coastal areas of Pakistan are linked with the Arabian Sea. According to topography, the country has alpine regions, permafrost, temperate, tropical, and subtropical ecosystems.
Climate of Pakistan
The country has a climatic zone that varies from region to region. The highlands areas are cold in winters and cooler in summer. The plain areas are hot in summer and cooler in winters. Due to varying climatic conditions, Pakistan experiences fewer rainfalls in plain areas.
Catastrophic Hazards
The reported catastrophic events in Pakistan include earthquakes, frequent floods, and heavy rainfall. The environmental problems in Pakistan are desertification, industrial sewerage, fewer water reserves, contaminated water sources, eroded soils, and deforestation.
Also read: Climate Change Threatening Survival of Pakistani Children – UNICEF Report
Impacts of Climate Change on Pakistan
The notable changes in weather conditions of Pakistan include variations in monsoon pattern, retreating glaciers of Himalaya, decreased Indus river flow levels, fewer water reservoirs and along, drought conditions, and frequent floods.
The impacts on the ecosystem include increasing water, soil, and air pollution, habitat loss, water scarcity, food shortage, mangrove destruction, decreased livestock production, etc.
Also check out: Climate Change Causing Rice Crop Yield Reduction In Pakistan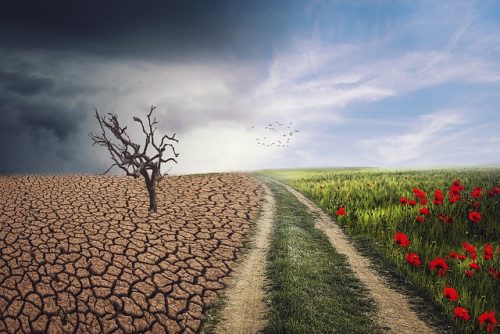 In reference to the Initial National Communication of Pakistan to UNFCCC, the results by assessment model of greenhouse gas and climate change are anticipated to be potentially damaging to the country. Climate change will have negative impacts on the social, economical, and public sectors. The agricultural sector will experience less productivity due to temperature imbalance, water scarcity, and soil conditions.
Check out how global warming is affecting Bees. Pollinator Decline of Bees – Causes, Effects and Solutions
Impact of Climate Change on Different Provinces of Pakistan
Climate change is having a different impact on differences provinces and regions of Pakistan due to the variety of landscapes, topography and ecosystems present in all provinces of Pakistan. For more information about the different ecosystems or biomes of Pakistan, check out: Ecosystem Zones and Climatic Biomes of Pakistan.
For detailed information about impacts of climate change on each province of Pakistan, check out the detailed articles given below:
Effect of Climate Change on Punjab Province of Pakistan
Effects of Climate Change on Sindh Province of Pakistan
Effects of Climate Change on KPK Province of Pakistan
Effects of Climate Change on Balochistan Province of Pakistan
Effects of Climate Change on AJK of Pakistan
Effect of Climate Change On Gilgit Baltistan of Pakistan
Mitigatory Strategies and Measures
The very first step of mitigation involves recognition of vulnerability to climate change. Later effective adaptation measures are formulated and implemented. Pakistan lacks implementation strategies and is not getting any international assistance in dealing with climatic changes. Pakistan has become part of many international agreements and before that Environmental Action Plan by EPA was developed and implemented countrywide. For the future, the government is taking steps to develop adaptation strategies at the regional level that will consider every socio-economic and environmental sector.
The current government has started green initiatives at the national level in order to combat climatic changes.
Also check out: Climate Change Threatens Health and Livelihoods of Pakistanis
Government Initiatives
According to the government spokesperson, the initiative like tree plantation, switching to electric transportation, utilizing renewable energy sources and urban forestry are mitigatory measure taken by the Country to tackle impacts of the climate change. The greenhouse gases emission will be reduced by electric transportation.
Check out the following news and articles
Ghazi Barotha 1 Million Tree Plantation Campaign Begins
Miyawaki Urban Forests In Pakistan And Its Benefitshttps://web.whatsapp.com/
Conflicts
There is conflict among environmentalists, activists, and Governmental officials in Pakistan. Some people are not appreciating governmental initiatives due to the absence of assessment strategies concerning the plantation movement. Some suggested the Government needs alternative renewable energy sources. Some didn't approve river urban development that would bring more environmental issues.
Conclusion
The Government of Pakistan is doing its best to tackle climate change and its impacts. The governmental officials say the initiatives of clean green Pakistan will soon show good results.
Also check out: Effects of Climate Change on Monsoon Season of Pakistan
I hope you all liked this post! Please comment below if you have any suggestions, comments, or feedback! We at #envpk love hearing from our readers! Thanks!
For feedback or queries, email at admin@envpk.com