Common Flora Found In Gilgit-Baltistan And Its Surrounding Regions – Plant Biodiversity Of GB, Pakistan
Gilgit Baltistan is an administrative province or territory of Pakistan that self-governs. It borders Azad Kashmir and was previously known as the Northern Areas. The geographic area of Gilgit Baltistan is 6 times bigger than that of Azad Kashmir.
The region along with Azad Kashmir is collectively known internationally and by the UN as 'Pakistan-administered-Kashmir'. The world's second highest mountain K2 is also found in Gilgit Baltistan and the 3 largest glaciers found outside the north and south pole regions of the earth are also found in Gilgit Baltistan.
Gilgit Baltistan has not only an important geographic position but, due to its mountain ranges and cooler climate, it also has a vast variety of flora and fauna.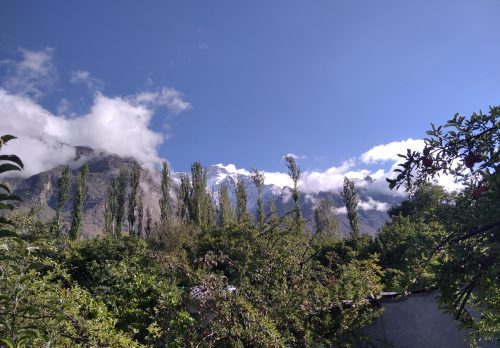 Also Check Out: Plants of Pakistan With Names and Pictures – Pakistani Flora
As of IUCN reports, Gilgit-Baltistan has a large variety of flora mainly due to the fact that it sits on the junction of 4 geographic regions. The reports as of now tell about a total of 342 species of plants belonging to 36 families and 142 genera. The total floral biodiversity of Pakistan amounts to about 5700 flowering plants out of which almost 400 species are native to Gilgit-Baltistan. 1000 species of vascular plants are known to occur in the mountain regions of Gilgit-Baltistan alone. However, these numbers are estimated and the actual total number is not known for sure.
A general trend shows an increased Plant diversity richness  from north to south and from west to east. For example, 134 species belonging to 35 families and about 90 genera of plants have been recorded from Khunjerab National Park (WWF 1996).
The Deosai National Park in the western Himalayas has about 342 species of plants belonging to 36 families and 142 genera according to IUCN reports. In total, 153 plant species belonging to 38 families and 113 genera have been recorded after extensive field research in the area. The total and exact numbers are yet to be explored and quantified in Gilgit-Baltistan.
Also check out: National Parks in Pakistan – Fauna, Flora and Importance
Many Plants in Gilgit-Baltistan are mostly aromatic and medicinal and extensively used culturally. However, due to extensive exploitation many of these plants are endangered due to lack of sustainable use and over-exploitation. Some of them are mentioned below.
List of 10 Important and Unique Plant Species found in Gilgit-Baltistan:
Afsantin (Artemisia maritimia): It is usually found abundantly in the sub alpine regions and mountain ranges of Himalayas in Gilgit Baltistan.
Himalayan Thyme (Thymus linearis): It is vastly used as a medicinal herb throughout the region to treat ailments like indigestion, spasms, respiratory disorders and even has antiseptic properties.
Seabuck Thorn: Locally also known as Buru. Its scientific name is Hippophae rhamnoides. It is commonly used medicinally for burns, eczema, high blood pressure and indigestion. It occurs in the temperate regions of Gilgit-Baltistan. It is highly sought after as it is rich in medicicnal properties and abundant vitamins and minerals. It is readily available in the Naltar, Baltistan, upper Gojal & Gilgit region.
Kuth (Saussria lappa): It is abundantly found in the Astore, Naltar and Minimurg valley regions as well as in the Kalapani and Kamari areas of Gilgit-Baltistan where they are present in bunches in the shady sloped of the temperate mountain regions.
Katki: It is also known as Karru. Its scientific name is Picrorhiza kurroa and it is found in the alpine meadows in Kamari and Burzil passes and also in the Deosai Plateau. It is an important plant in the healing practices and system of the region.
Safed Zeera: Common English name is White Cumin. Its scientific name is Carum spp. It is readily found in many areas of the Rattu Valley, Astore and Shigar Valley in  Baltistan. It is an important culinary herb and also a major part of the business and trade in the region.
Tumuro: It's common name in English is Wild Thyme. Its scientific name being Thymus serpyllum. It is the most widely recognized and available herb in the entire Gilgit Baltistan region. Especially in the Upper Astore valley region. It is closely related to the Himalayan Thyme.
Hing (Ferula foetida): It is found in the Upper Astore regions, Bunji and Harcho regions of Baltistan.
Som: Locally and commonly known as Asmani Buti. Its scientific name is Ephedra spp. It is commonly found in the upper Gojal, Astore and Gilgit region. It is popular across Pakistan and used in trade and various homeopathic healing and cures.
Other Plants: The plant communities are diverse, with a number of progenitors of economically useful crops including wild cumin, thyme, pine nuts, apricots, and walnuts, and a host of medicinal plants with potentially useful pharmaceutical values. Some other include: Bankakri, Mulathi, Atees, Ratanjot, Revand-chini, Mushbala and Kamsal Zeera.
As they are used and exploited extensively with no care for conservation of these plants, concern has been raised and now various gene banks and tissue culture conservation can be achieved by cultivating rare species of medicinal plant at suitable locations across Gilgit Baltistan across the region to preserve it.
Check out:
Biodiversity Management- Methods, Techniques and Importance
Conservation of Biodiversity- Importance and Methods
We hope you liked this post! Please comment below if you have any suggestions, comments or feedback! We at #envpk love hearing from readers! Thanks
An Environmental Science major interested in creating awareness about all things related to the environment and how we can protect it.