In a latest video that went viral on social media, a Pakistani Tiktoker Qazi Haseeb who has 1.3 M followers and 17.2 M likes on his videos was seen holding a near- dead unconscious Marmot in what seemed to be the way to Khunjerab Pass (China border), Hunza District Gilgit-Baltistan. This whole area is a part of Khunjerab National Park and hurting any animal in a national park is a serious crime. In the video posted by the Tiktokker himself, he admitted to having no knowledge as to what the animal is and of having chased the animal to capture it when he saw it roaming in its natural habitat.
This act is highly condemnable and is animal abuse and animal cruelty. It is a crime.
However, unfortunately such cases of people hurting animals and resorting to animal abuse and animal cruelty for views on social media are not new and have happened in the past too, for more info kindly read: Animal Abuse by Pakistani Social Media Celebrities.
Governments designate specific areas which are rich in wildlife as National parks for the purpose of protecting and preserving the natural resources of that area such as fauna and flora. Khunjerab National Park is one of Pakistan's oldest national parks and has always been a peaceful and undisturbed area where animals such as Markhors, Snow leopards, ibex and Marmots etc. are free to roam around and live in their natural habitat and the local communities of the surrounding areas help manage this national park in a brilliant manner. However, this recent boom in the tourism industry of the past few years has wreaked a havoc on this place and other similar beautiful scenic natural areas in Pakistan. For detailed info, check out: Environmental Impacts of Growing Tourism Industry of Pakistan and Environmental Damage Due to Tourism Industry of Pakistan.
The impacts of such unsustainable, unsupervised and unregulated tourism have been devastating for the natural beauty and natural resources of various different "tourist spots," especially in the northern areas of Pakistan such as Hunza and Skardu in Gilgit-Baltistan; Naran, Kaghan, Shogran in Khyber Pakhtunkhwa; and Kel, Arang Kel, Taobat and Ratti Gali in AJK just to name a few.
Most domestic tourists are seen to have zero regard for pristine cleanliness of these areas and throw garbage everywhere – even in beautiful lakes like Attabad and Lulusar etc. and lush green meadows and treks and even on roads. Recently, many incidents were seen circulating on social media where tourists from different areas of Pakistan were destroying nature in various ways such as throwing garbage out of their cars, wall-chalking, spray-painting their names on mountains and huge rocks, destroying fruit trees and breaking their branches and even trespassing into local people's properties and disrespecting them. Such tourists have no respect for nature, culture and social norms of these areas. And this has already led to serious damage to the nature of these areas.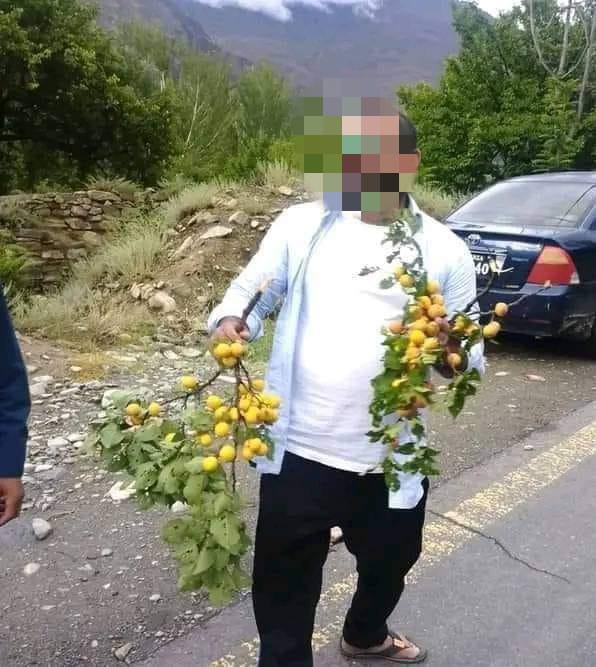 Check out: Plastic Crisis: An Emerging Threat to Mountain Ecosystem and Domestic Tourism in Pakistan – Positive and Negative Impacts
Local authorities such as EPAs, wildlife departments and tourist police should take proper legal action against such people to prevent incidents like these from taking place and also educate the masses about responsible eco-friendly tourism. We need stricter implementation of law. We hope such activities will not become a norm in coming years and environmental-consciousness would prevail.
Also read:
Animal Abuse In Pakistan And What Can Be Done About It?
Exotic Pets And Their Impact On The Environment Of Pakistan
We hope you liked this post! Please comment below if you have any suggestions, comments or feedback! We at #envpk love hearing from readers! Thanks!
For feedback or queries, email at admin@envpk.com