Introduction
Climate change and its effects can be seen around the world with its influence on water industry, our biodiversity and forests. It also has impacts on our health and socio-economic conditions. A report published by the Intergovernmental Panel on Climate Change stated that the under developed and poorly developed nations are more on the verge of climate change and are more susceptible to its effects. This can be seen whenever any climatic disaster occurs in such area the poor are more affected due to lack of communication and resources. To know more about Climate Change, please read: Climate change and its Causes and Effects.
Human made activities i.e., anthropogenic activities are the major cause for such climate related disasters and the people with low wages are highly affected. The release of the green house gases and consumption of fossil fuels has significantly increased after the industrial revolution. These gases remain in the atmosphere for a long period of time and warm the planet in turn.
For more information: Climate Change and Its Impact on Pakistan
Location of Sindh
Sindh province is situated in the south east of Pakistan.The Arabian Sea is to the south. River Indus or River Sindh is the major river that flows in this province. The province was established in 1970. Karachi is the provincial capital of the Sindh Province. The total area of Sindh is around 140,000 km2 and the population is 47.89 million as of 2017.
Topography of Sindh
Thar desert is located in the east, the Kirthar mountains in the west and Arabian sea in the south. In the center is a fertile plain around Indus River. It is located in the subtropical region therefore; it is hot in the summer and cold in winter. The temperature rises above 45 ˚C in the months of May to August and the minimum temperature is around 2-3˚C during December to January. The average rainfall is about 7 inches.
Effect of Climate Change on Sindh Province
Climate Change will have and is currently having a disastrous effect on the province or Sindh and the people that live there. The communities that live near coasts in Sindh province are at risks of climate change. It can increase the floods, sea level rise, severe storms, coastal erosion as well as droughts and extreme weather events like coastal storms, hurricanes and tornadoes. Such disasters result in decrease of land and source of revenue while such people are forced to migrate or worse lose their livelihoods and lives.
Have a look at: What is Climate Change Adaptation? – Importance and Methods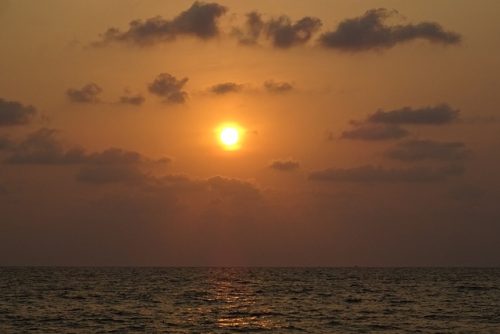 Some common effects of Climate Change on the Sindh province of Pakistan are:
Sea water rise
Salt water intrusion
Floods
Cloud outbursts
Drought
Desertification
Less crop yield
Species extinction
Extreme weather events
Heatwaves
1. Sea Water Rise and Salt Water Intrusion
Sea water rise would result in the submergence of the coastal areas of Sindh province. Karachi, which is the biggest and most populated city in Pakistan might be submerged by the 2060 due to sea water rise because of Climate Change.
The displacement of people in Sindh's coastal area due to sea water rise is a steady and intricate process. While some of the migrations are temporary others are permanent. A decade ago, the people were forced to migrate due to sea level rise as that area is floated in the sea now. More over there has been no proper management of the Indus River water and sea level rise. This results in loss of biodiversity, source of income of the local people is also disrupted.
Mainly the people earn through farming or fishing and make up poor communities with little to no say in the government policies.Because these communities have very little impact on the political and environmental processes, but are greatly effected by Climate Change in return, they are easy to neglect by governments and policy makes.
Thus, most of the help and basic necessities are provided by the non-governmental organizations which help in increasing the knowledge through which means of income can be increased, providing information about basic health and nutrition. They also help in empowering the communities how to engage with the higher establishments and institutions. These organizations help in providing climate related solutions to communities by provision of adaptive policies and safe migrations towards their new locations. Also check out: Overfishing and Fish Stock Depletion – Causes, Effects, Solutions.
Some catastrophic effects of decrease in freshwater flow in the Indus River from glaciers causes reduction in the availability of potable water, increased malnutrition and disease, decrease in aquatic life and mangroves trees. It also causes increased salinity and damage to agricultural land that ultimately causes poverty.
Salt water intrusion refer to the mixing up of salt water from the sea into freshwater either on the land (rivers) or under it (underground water table). Addition of salt in freshwater decreases its quality and renders it unusable for many applications.
You might also be interested in: Karachiites Demand Climate Justice – Climate March Karachi
2. Floods
Sindh province also has seen various spells of floods. The floods in 2010 costed about 9.7 billion dollars damage. The world bank has contributed about 120 million dollars to Sindh resilience project to control the flood in Sindh province. The climate change has resulted in change in hydrological cycle such as very little rainfall in the monsoon season that leads to severe droughts. While the number of rainy days has increased in Sindh the capacity of rains has increased that causes urban flooding.
3. Cloud outbursts or Cloudburst
Recently there has been observed cloud outburst in Karachi that led to urban flooding. The monsoon season lasts from July to August now. This problem can be resolved by the construction of small dams, but it requires these dams to be filled also. The Thar desert has seen many droughts during the past decade with average rainfall of 200 mm.  This rainfall had seen exception in 2011 and the storage was increased in natural sand dunes and man-made dams. That water is being used for domestic, drinking purposes and farming. After that the inhabitants are facing water scarcity. Also check out: Effects of Climate Change on Monsoon Season of Pakistan.
4. Drought and Desertification
About 60 % area of Sindh geographically is semi- arid receiving less than 5 inches during monsoon season and even lesser in December. The arid area that the people depend upon faces scarce rainfall for hovering livestock and growing millet crops. The failure of rainfall and global climatic effects have significantly reduced the water supply in the Indus River System (IRS). These longer and more intense dry periods cause droughts and desertification. For more detail, kindly read: Climate Change Is Increasing Water Scarcity Around The World.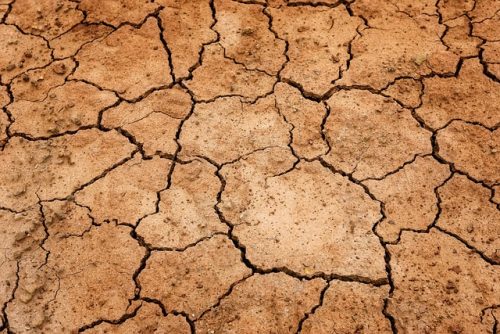 5. Less Crop Yield
Sindh is the southern most province in a country where the glacial water enter streams in the North, thus it sees the end of the River Indus which begins from the mountains in the North. River Sindh is the only major River, which no doubt is huge but still is the only major River in Sindh.
Two-third of ground water is salty and 80% agricultural land is affected by water logging and salinity (For more detail: Waterlogging and Salinity in Pakistan). The most affected crop is the wheat at 22 % and rice at 35%. This causes food scarcity causing 27 % dropout in schools. So in case of water shortage in the province, less crop yield can be a major problem. Also check out: Water Scarcity Crisis in Pakistan: Causes, Effects, Solutions.
6. Species Extinction
The decreasing drainage system and increase in human waste and other types of pollution in the Indus River has adverse impacts on the human and livestock populations, as well as, on agriculture, fishing, land, water and forest. Soil degradation has damaged a vast variety of livelihoods, reduced water levels have also resulted in lesser buffalo herds that survive in shallow water.
As a result, the breeders face shortage of milk production and loss of livelihood. Mangrove forests of Pakistan in Sindh province are also being destroyed due to human activities as well as Climate Change, leading to species extinction as Mangroves are a rich habitat. For more information read: Mangroves and their Destruction – Causes, Effects, and Conservation Techniques.
7. Extreme Weather Events
The coastal area of Karachi has faced extreme dangers due to heavy rainfall and cyclones in last year June 2020. Extreme Weather Events like cyclones, hurricanes, coastal tornadoes, droughts, heatwaves and disturbances in the Monsoon cycle can have a terrible impact on the Sindh Province. Also check out: A Look Back At 2021: Climate Crisis and Extreme Weather Events.
8. Heatwaves
Heatwaves have been a regular feature in summers in the Sindh province withmany people even losing their lives due to increased temperatures and resultant heat-strokes. These heatwaves have equally bad impacts on animals, birds and plants which die because of excessive heat which they are not adapted to survive. Also read: Heatwaves Are Killing Off Sea Life In Billions – Destroying The Ecosystem
Also check out: What is Climate Justice and Why Is It Important?
Conclusion
Sindh province is especially vulnerable to the negative impacts of Climate Change and government needs to focus on mitigating and preventing these impacts. Karachi has one of the best geographical location, coastal regions and mangroves forests for the access of quality water but still it has one of the higher poverty rates in the world so the poor and low wage workers are more sidelined and marginalized.
Therefore, adaptive mechanisms and policies or strategies should be formulated with the help of sidelines people and communities so that already existing issues and effects can be mitigated and new arising issues can be reduced. You might also like: Climate Change Adaptation Methods and Mitigation Strategies.
For detailed information about impacts of climate change on each province of Pakistan, check out the detailed articles given below:
Effect of Climate Change on Punjab Province of Pakistan
Effects of Climate Change on KPK Province of Pakistan
Effects of Climate Change on Balochistan Province of Pakistan
Effects of Climate Change on AJK of Pakistan
Effect of Climate Change On Gilgit Baltistan of Pakistan
We hope you liked this post! Please comment below if you have any suggestions, comments or feedback! We at #envpk love hearing from readers! Thanks!
I dream of becoming planet Earth's greatest environmental scientist and climate change activist. Utilising my carbon foot print to create social media awareness and promote sustainability.