Introduction
Climate change effects all areas of Pakistan, however some areas are more seriously effected than others. One such area is Gilgit-Baltistan. Gilgit Baltistan has some of the highest peaks in the world and a huge number of glaciers- which are melting and receding due to Climate change. Therefore the effects of climate change are more pronounced there. For more info read: Third Pole Is Melting – Himalaya-HinduKush-Karakoram Glacier
Please read: Climate change and its Causes and Effects and Climate Change and Its Impact on Pakistan.
Location of Gilgit Baltistan
Gilgit Baltistan is the most north region of Pakistan. This region is self-governing and is home to the highest mountains in Pakistan. This region has several peaks above 7000 meters and over peaks that are above 8000 meters. The center of attraction is Karakoram, Himalaya and Hindu Kush mountain ranges. There are several beautiful lakes, rivers and trekking sites and glaciers. It is a mountain paradise of not only Pakistan but of the entire world as some of the most scenic and highest mountain peaks in the world are present in this region.
Topography of Gilgit Baltistan
The weather in the region is due to its geographical location as it is in the south of the Karakoram region, therefore the weather is very cold and the winters last for about nine months a year. The summer season is hot but short with maximum temperatures of 40 degrees due to this the avalanches and landslides are very common. The valley is inclined by the Hunza, Gilgit and Indus River. The temperature varies from 27 degrees to 8 degrees Celsius and below -17 in winters.
Some common glaciers present in Gilgit-Baltistan, Pakistan are Baltoro glacier, Chimmik glacier, godwin-austen glacier, Hainablak, Hispar glacier, Kutiah glacier, Miar glacier, Panmah glacier and Passu glacier. The Gilgit river is a tributary of the Indus river and starts from Shandur Lake and joins the Indus river near villages of Juglot and Bunji. There is less precipitation in Gilgit ranging from 120 to 240 mm per year. The glacial melted snow water is used for agriculture and other purposes. Gilgit has a cold desert like climate also is also home to one of the highest cold deserts in the world – the Katpana desert and Sarfaranga desert.
You might also be interested in: Urgency of Climate Justice for Mountain Communities of Pakistan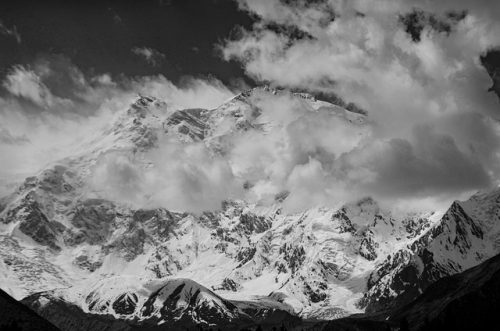 Effects of Climate Change on Gilgit Baltistan
Glacier melting and Glacial Retreat
The Karakoram glaciers are being eaten away by the climate change. The main danger is that these melting glaciers are collected in lakes and rivers that can outflow and cause flash floods. There are 3000 glacial lakes and 33 out of them are catastrophic in nature. For more information, please read: Climate Change and Himalayan Glacier Hazard.
For detailed info: Glacier Melting and Glacial Retreat – Causes, Effects, Solutions
Floods
Increasing temperatures lead to faster glacier melting, which in turn result in flash flooding and glacial lake outbursts. Heavy rainfall and glacier melting in Ghanche village in the region caused floods in the village. There are more glaciers expected due to the future Glacial Lake Outburst Floods (GLOF). The melting glaciers can cause flash floods in Gilgit Baltistan. To know more about Flash floods, read Flash Floods – Causes, Effects, Prevention and Management.
Extreme Weather Events Snow Storms and Heatwaves
The unprecedented snowfall in the region can kill people and destroy roads and bridges. The intensity and frequency of snow storms can increase even in the month of April. This effects the tourism industry, transport industry and causes economic destruction. Heatwaves can similarly also have disastrous consequences for humans and the environment.
Mass Migration Towards Cities    
Due to the negative impacts of climate change in such a vulnerable region, many people are projected to have no choice but to move to other cities resulting in mass migration. Many local people are already moving towards the cities due to lack of job opportunities, which puts more pressure on metropolitan cities which already host a number of people over their capacities. As the tourism season only opens for 4 to 5 months and the winter season is extremely harsh for people living in higher up areas, the locals move towards other villages or other cities.
      5.  Soil erosion
All of these floods and landslides due to climate change lead to soil erosion. All these cut down of trees and loss of vegetation causes loss of fertile soil and subsurface or top soil, which negatively impacts the local agriculture. On average in  2005, 7.54 ± 20.25 ton/ha/year soil erosion was reported in Gilgit-Baltistan, which resulted in increase in 2015 to 9.06 ± 29.69 ton/ha/year. The most affected is the Shigar valley. Read: Soil Erosion and Degradation – Causes, Effects, and Solutions
      6. Landslides
The Hunza-Nagar region is prone to landslides due to its geo-morphology. Most of the landslides are due to population and human development in these areas. Climate change and its resultant glacial melt and flooding increase the likelihood of landslides. For more information: Landslides and Rockfall – Causes, Effects, and Prevention
     7. Seasonal Change and Decreased Crop Yield
Due to global warming trends and increasing temperature there will be less crop yield as compared to before. Other issues such as soil erosion, landslides, flash floods and extreme weather events also negatively impact the crop yield. You may also like to read: Food Security and Climate Change in Pakistan.
      8. Habitat Destruction and Species Extinction
Changing climate, global warming, retreating glaciers, extreme weather events and increased frequency of natural disasters as well as anthropogenic activities result in loss of habitat of species such as blue sheep, marcopolo, ibex, astore markhoor are endangered . The snow leopard that is the beauty of Himalaya is also endangered as they depend on the above species for food and 300-400 are left only.
       9. GLOF Events:
GLOF refers to Glacial Lake Outburst Floods. Due to climate change glacial lakes are being formed, which can outburst their containment any moment and causes devastating flood downstream causing a lot of damage. For more info about GLOFs, read: Glacial Lake Outburst Floods in Pakistan- Causes and Effects.
Conclusion
The government should focus on mitigating the impacts of climate change in Gilgit-Baltistan region, which is one of the most vulnerable regions of the country to Climate Change and its negative impacts. Climate change adaptation strategies need to be adopted and implemented in the region. Work towards legislation, rules and regulations, promotion of ecotourism is also needed. For more info please read What is Climate Change Adaptation? – Importance and Methods.
For detailed information about impacts of climate change on each province of Pakistan, check out the detailed articles given below:
Effect of Climate Change on Punjab Province of Pakistan
Effects of Climate Change on Sindh Province of Pakistan
Effects of Climate Change on KPK Province of Pakistan
Effects of Climate Change on Balochistan Province of Pakistan
Effects of Climate Change on AJK of Pakistan
We hope you liked this post! Please comment below if you have any suggestions, comments or feedback! We at #envpk love hearing from readers! Thanks!
I dream of becoming planet Earth's greatest environmental scientist and climate change activist. Utilising my carbon foot print to create social media awareness and promote sustainability.