Introduction
Balochistan province of Pakistan is already facing many environmental issues and on top of everything Climate change is added further pressures on already stressed environmental conditions. Climate change is a huge issue in Pakistan, so kindly read Climate change and its Causes and Effects and for further info regarding effects of Climate change on Pakistan, check out: Climate Change and Its Impact on Pakistan.
Have a look at: What is Climate Change Adaptation? – Importance and Methods
Location of Balochistan
This province is located in the west of Pakistan. Iran is situated in the west of province, Arabian sea in the south, Afghanistan in the northwest, Khyber Pakhtunkhwa province in the northeast and Sindh in the southeast, Punjab in the northeast.
Topography of province
Balochistan province is divided into four main physical regions. The lower highlands are located in the eastern slopes of the Suleiman Range, lower part of the Makran, Kharan in the west. In the southeast Pab And Kirthar ranges. The upper highlands in the province are located in the northeastern and central region that are surrounded by Sulaiman range and Toba Kakar range in the east and northwest respectively. These areas are occupied by the nomadic herdsmen.
Flat plains stretches from north around the mountains to the desertic region of Kharan , Chagai And Makran. There are swamps in the Lora lai. These highlands in the upper part drain directly into Indusriver and lower highlands into northward to swamps and Arabian Sea in southward. The climatic region is arid and has extreme summers and winters. Most of these swamps are drying up due to severe temperatures. The fertile plains are finishing due to the exploration for natural gas and gems.
Climate change effects on Balochistan
Droughts
Due to less annual precipitation the Balochistan province faces severe drought conditions although it is an arid region. The flow of water in the river Indus towards Sindh province is lessened as compared to before. The water table is decreasing day by day and there is less availability of water. The snow fall is also less as compared to before has led to water scarcity within the underground. This has proved to be catastrophic for the province's agriculture and livestock.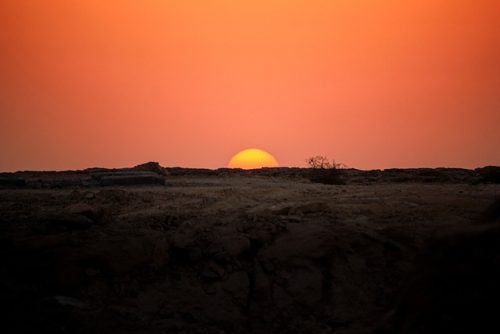 Floods and soil erosion
There is flash floods every year during monsoon due to torrential rains. The biggest flood in Sindh and Balochistan in 2010 due to flash floods. Tump, Nasirabad and Pasni are the three councils which face flash floods during the monsoon season. These flash floods cause soil erosion, soil depletion and loss of top fertile soil. Already the soil is less mineral deficient and cannot withstand more depletion. Such soil requires hundreds of years to replenish and cannot grow or withstand agriculture. The flash floods in lasbela district in February 2019 caused loss of livelihood and property and affected 40,000 people in the catchment area.
Please read How Much Time Earth Has Before Climate Change Destroys it?
Extreme weather events like heat waves
There has been heat waves reported in the Balochistan since the last few decades. The heat wave in Balochistan and Sindh in 2015 killed about 200,000 people. But the heat waves due to increasing temperature will increase day by day as the accumulation of greenhouse gases in the atmosphere are increasing. Scientists have predicted that with the increase of heat waves near coastal areas of Balochistan in the near future it could create problems for the Gwadar development project. It is a multibillion dollars project.
Desertification
The Balochistan province is already facing desertification as the heat waves continue there will be loss of vegetation and fertile land. The groundwater in Quetta is already depleting and there is drastic infiltration also.
Seasonal change and decreased crop yield
Less rainfall, droughts , desertification and sea water intrusion have caused the wheat and vegetable production to decrease.
For more info: These 11 Countries Risk Instability Due To Climate Change
Sea level rise and salt water intrusion
There has been a loss of fertile land and water logging in the districts of Badin and Thatta as the salty sea water has entered into river Indus delta. This could be solved by the plantation of mangroves forest as it helps in protection against floods and sea water intrusion. This project is initiated between IUCN and Balochistan government.
Also read: Balochistan Could Suffer Aridity Due to Insufficient Dams
Conclusion
Climate change has become inevitable but still we can slow down the process as described by IUCN to decrease green house gases by 1.5 C by 2050. The plantation of mangroves, construction of sea banks and mass awareness is the key to success in fight against climate change.
For detailed information about impacts of climate change on each province of Pakistan, check out the detailed articles given below:
Effect of Climate Change on Punjab Province of Pakistan
Effects of Climate Change on Sindh Province of Pakistan
Effects of Climate Change on KPK Province of Pakistan
Effects of Climate Change on AJK of Pakistan
Effect of Climate Change On Gilgit Baltistan of Pakistan
We hope you liked this post! Please comment below if you have any suggestions, comments or feedback! We at #envpk love hearing from readers! Thanks!
I dream of becoming planet Earth's greatest environmental scientist and climate change activist. Utilising my carbon foot print to create social media awareness and promote sustainability.