February 19th, 2021: Ministry of Climate Change Pakistan announced that Prime Minister Imran Khan has kicked off an afforestation campaign in Ghazi Barotha, under his government's flagship tree plantation project of 10 Billion Tree Tsunami. The 1 Billion tree tsunami initiative of his government had proven to be so successful that Pakistan became the first country to complete the Bonn Challenge. The government the later announced the 10 billion tree tsunami project which planned to plant ten billion trees around the country in a the next 3 years. This project has been lauded internationally and was recently appreciated by the Executive Director UNEP.
Ten lac trees over the period of three years will be planted at Ghazi Barotha to convert it into a forested area. This will begin the 10 billion tree tsunami drive in the country. The PM also encouraged the youth to take part in his vision as responsible citizens of the country to ensure a better future of Pakistan. Ten cricket grounds were also announced to encourage the youth to take part in sports.
PM @ImranKhanPTI has initiated forest plantation drive to plant 1 Million trees in Ghazi #Barotha, under #10BillionTreeTsunami.#Plant4Pakistan. pic.twitter.com/J47LVjgiJI

— Ministry of Climate Change, Govt of Pakistan (@ClimateChangePK) February 19, 2021
PM Imran Khan has multiple times shown his commitment to make Pakistan greener by introducing multiple tree plantation campaigns around the country, with recent Spring Tree Plantation campaign being initiated which includes plantation of 20 Miyawaki Urban Forests in Islamabad and 50 such forests in Lahore after the successful implementation of the Miyawaki tree planting technique in Liberty Roundabout, Lahore, as well as the Ghazi Barotha forestry campaign.
This massive tree plantation campaigns launched by the Pakistani government will help increase the green cover of Pakistan and also help solve the issues related to deforestation and degradation of the environment, as well as the greater challenge of Climate Change, to which Pakistan is a highly vulnerable country. Let's #PlantForPakistan and support the #10BillionTreeTsunami for the a cleaner and greener future of Pakistan.
Also check out: Miyawaki Urban Forests In Pakistan And Its Benefits
I hope you all liked this post! Please comment below if you have any suggestions, comments, or feedback! We at #envpk love hearing from our readers! Thanks!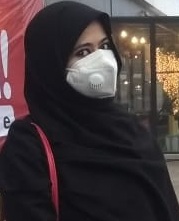 Founder of Envpk.com. A passionate environmentalist and researcher by education and at heart. A proud tree-hugger.
#SaveEarth #GoGreen