The location of Pakistan on the world map makes it important for economic and tourism activities. Pakistan has known geographical features such as the Hills of Khyber Pakhtunkhwa, Mountain ranges in Northern Pakistan, Indus River Plain in Sindh and Punjab, and the plateau in North-Eastern Pakistan.
check out Impact of Human Activities on Margalla Hills National Park
Last year, Pakistan was included among the top holiday destinations. The tourism industry of Pakistan is kept on flourishing with improving security. Many international travelers and bloggers made their way to Pakistan and presented a beautiful and positive image of Pakistan to the world. The reason for this fame is due to the diverse and unique landscape features of Pakistan.
Below 7 must see beautiful natural phenomena in Pakistan are mentioned with their locations and specialties.
Bioluminescence Beach
Location: Beach of Bhit Khori, – Balochistan
Best Time to Visit: It can be observed after sunset. But whether you can see it or not depends on your luck because it's not an everyday event.
It is a natural phenomenon. The living organisms such as marine invertebrates and vertebrates mainly algae bloom of plankton produce and emit light as a result of chemical reaction under the water surface.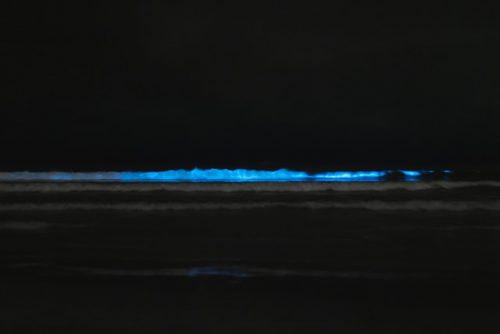 Mud Volcanoes / Chandragup
Location: Hingol National Park Lasbela District – Balochistan
Best Time to Visit: Winter Season – from November to January/February
It is a geothermal phenomenon. A mud volcano is also known as a mud dome. It is a kind of landform that is formed when gases, water, slurries, or hot mud erupts from the land. This place is important for Hindus and they consider it a sacred site for pilgrimage.
Image Source: Ahsan Mansoor Khan, CC BY-SA 4.0, via Wikimedia Commons
Cold Desert – Katpana Desert/Biama Naakpo
Location: Skardu – Gilgit Baltistan
Best Time to Visit: Fall/ Spring – October
The cold desert has extremely cold winters and hot summers. It is present along with mountain ranges in Pakistan and hosts unique diversity of plants, animals, and migratory birds.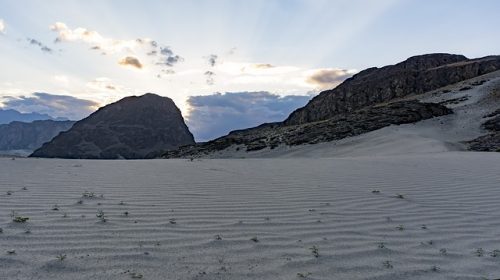 Attabad Lake
Location: Gojal, Hunza Valley – Gilgit Baltistan
Best Time to Visit: June to August/ April to October
This is the most beautiful lake in Pakistan. The water of the lake is blue and clear and surrounded by breathtaking mountains. It is a very important point for tourists.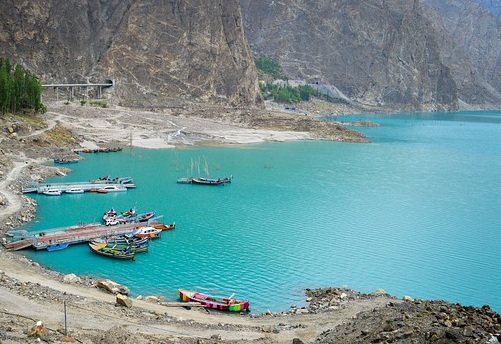 Hot Water Springs/Garam Chashma
Location: Chitral District, Yasin Hunza, Gigit Valleys – North-West Pakistan/ Hindukush Ranges
Best Time to Visit: September to  November/June to August
It is another natural phenomenon that results in the emergence of hot water from the ground. Hot springs are usually found in high altitudes and they support human settlement.
Salt Mine /Khewra Salt Mine/ Mayo Salt Mine
Location: Khewra, North of Pind Dadan Khan, Jehlum District – Punjab/ Salt Range -Potohar plateau
Best Time to Visit: March to May
The salt mine in Pakistan has economic importance and it is widely known as Himalayan Salt. The presence of minerals in salt gives it pink tint color. This is the second-largest salt mine in the world.
Image Source: Shikari7, CC BY-SA 3.0, via Wikimedia Commons
Trango Towers
Location: North of Baltoro Glacier – Karakoram Ranges/Gilgit Baltistan
Best Time to Visit: June
They are rock towers and a sub-range of the Karakoram mountain range. It is known for having some largest cliffs and K2. This mountain range offers the most challenging rock climbing. Tourists come from all around the globe.
Image Source: mtzendo, CC BY-SA 4.0, via Wikimedia Commons
CONCLUSION
Pakistan has unique and diverse geographical features with varied climatic biomes. There is a huge diversity of animals and plants present in these biomes. The lakes of Pakistan host migratory birds during their breeding season. There are native birds and animals that are listed in IUCN red list as endangered and critically endangered. Some species are listed as vulnerable. Some parts of the country are enriched with indigenous animals and plant species.
Also, check out Environmental Impacts of Growing Tourism Industry of Pakistan
I hope you all liked this post! Please comment below if you have any suggestions, comments, or feedback! We at #envpk love hearing from our readers! Thanks!
For feedback or queries, email at admin@envpk.com