World Environment Day, also known as Environment Day or Eco Day is celebrated every year on 5th of June to impart environmental awareness to the masses. First World Environment Day was held in 1974, as an initiative by the United Nations to spread awareness about the environmental issues faced by the world. It has now become a global phenomenon with almost all countries of the world observing it every year.
World Environment Day has a new theme every year, as well as a host country. It was announced earlier today by UNEP that year 2021's theme is "Ecosystem Restoration" and Pakistan will be the global host country for this year.
Big news ?

Pakistan?? will be the global host of #WorldEnvironmentDay 2️⃣0️⃣2️⃣1️⃣!

The theme for World Environment Day this year will be ecosystem restoration and will focus on resetting our relationship with nature?#GenerationRestoration https://t.co/zEkRtIC7cX

— UN Environment Programme (@UNEP) February 22, 2021
This was also announced by the Ministry of Climate Change, Government of Pakistan:
Pakistan announced today that it will host #WorldEnvironmentDay2021 in partnership with the *UN Environment Programme (@UNEP)*.

This year's observance of World Environment Day will be on the theme of 'ecosystem restoration' and focus on resetting our relation with nature. pic.twitter.com/KOkCHWKJMy

— Ministry of Climate Change, Govt of Pakistan (@ClimateChangePK) February 22, 2021
Since the current Prime Minister of Pakistan, PM Imran khan and his political party PTI came into power, Pakistan has been focusing a lot on environmental restoration and tree planting campaigns such as the successful and globally praised "Billion Tree Tsunami" and its step-up campaign which is currently being undertaken by the country:  "10  Billion Tree Tsunami" as well as afforestation of cities like Lahore and Islamabad by using the "Miyawaki Urban Forest" technique. Pakistan is one of the most vulnerable countries to Climate change and the impacts of Climate Change on Pakistan will be devastation, thus the need for efforts to conserve our environment by the PTI leadership need to be appreciated. Pakistan is set to be one of the most environmentally conscious country of the world with its current government and the public's effort for ecosystem restoration – which happens to be this year's WED's theme also.
We've touched up ? the #WorldEnvironmentDay website – head there to learn more about this year's theme of ecosystem restoration and host country Pakistan's?? "10 Billion Tree Tsunami"???#GenerationRestoration https://t.co/e2SY5xwAG5

— UN Environment Programme (@UNEP) February 22, 2021
Finally PM Imran Khan and his government's efforts t0 conserve the environment are being acknowledged internationally. Thanks to him and his team, Pakistan is becoming an environmentally conscious and green country! Pakistan Zindabad!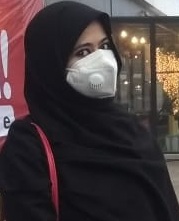 Founder of Envpk.com. A passionate environmentalist and researcher by education and at heart. A proud tree-hugger.
#SaveEarth #GoGreen