Pakistan has been selected by the UNEP as a global host of World Environment Day 2021, it was announced earlier today by the UNEP and the Ministry of Climate Change, Government of Pakistan. But did this happen without a reasons and out of the blue? Of course not! Pakistan gave a reason to UNEP to select it as their host country for World Environment Day 2021, especially when this year's theme is "Ecosystem Restoration." Pakistan has been actively trying to restore its environment recently and has undertaken a great many measures to achieve that under the leadership of PM Imran Khan and I am glad finally Pakistan's efforts are being recognized at an international level.
So should PM Imran Khan and his PTI government be given all credit for this achievement? Definitely! The world was left with no choice but to acknowledge Pakistan government's commitment, dedication and achievements in the field of environmental restoration.
It is after 36 years that Pakistan has been selected again as the host country for World Environment Day, with the first and only time previously being in the year 1985 when the theme was Youth: Population and the Environment. Therefore it is a huge achievement of Pakistan to be again considered for this honour. Pakistani environmentalists, who are used to worrying more and celebrating less when it comes to the environment of Pakistan, cannot be prouder and happier about this announcement.
Pakistan is one of the top ten countries most vulnerable to the disastrous effects of Climate Change but still previous governments had failed to cater to this issue and never really focused much on environment, sustainability or ecosystem restoration [Read: Climate Change and Its Impact on Pakistan].
Pakistan's efforts for environmental conservation have been negligible during the tenures of the previous governments of PMLN and PPP, which has proven to be disastrous for Pakistan's environment. Rampant deforestation  in the northern areas of Pakistan reduced the already extremely low forest/green cover, uncontrolled illegal hunting and poaching wrecked havoc on the endangered species as well as some of the critically endangered species of Pakistan, while cities were converted into concrete jungles with roads, underpasses, bridges and other huge projects being built without any proper Environmental impact assessment and at the expense of the year old trees that were cut in order built these. All these things made a mockery of the environmental regulations of the country.
It was only after Prime Minister Imran Khan came into power that environmental restoration was even mentioned at a national level. PM Imran Khan and his party PTI even mentioned environmental degradation and restoration in their political mandate, but no one really expected them to pay this much attention to the environmental issues faced by the country.  The dedication of the current government of Pakistan towards environmental restoration is truly commendable. It would not be wrong to call this government an environmentally conscious government as it possesses enough farsightednesses to cater to the environmental issues currently faced by Pakistan by practically applying mitigatory measures to ensure a cleaner and greener future for our future generations.
It is a climate and environmental emergency that we are facing and I am glad we have a Prime Minister who realizes how big a problem this is. This government may be doing a lot of things wrong, but the one thing they are doing right is environmental restoration.
Pakistan needs to be able to adapt against the harmful impacts of climate change and the recent initiatives launched by the government such as the Spring Tree Planting Campaign, "Miyawaki Urban forests" that are being planted across the metropolitan cities of Pakistan and the amazing 10 Billion Tree Tsunami campaign which is helping increase the forest area of Pakistan a great deal and at a quick pace will definitely help us do that. If Pakistan continues to work for the environment in the same pace, then Pakistan is definitely set to become one of the world leaders in environmental restoration, and fight against climate change and environmental degradation.  And I being a passionate environmentalist have never been prouder of my country! Pakistan Zindabad!
We hope you liked this post! Please comment below if you have any suggestions, comments or feedbacks! We at #envpk love hearing from readers! Thanks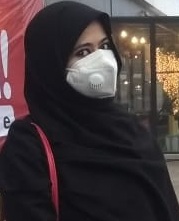 Founder of Envpk.com. A passionate environmentalist and researcher by education and at heart. A proud tree-hugger.
#SaveEarth #GoGreen