Environment is everything that surrounds us and everything that surrounds us is unfortunately very polluted nowadays, thanks to us humans and our activities. However, not all of us want to contribute the insane amounts of pollution into our surroundings and some of us want to become environmentally conscious and responsible citizens of this world as we know that environment is our shared resource.
Also read: 15 Ways Kids Can Help Save The Earth
If you are one of those people, who really want to help "save" our environment or at least make it better, then you are at the right place as we are sharing some really easy, quick and practical tips that will help you help save the environment. Check the list out and please suggest anymore tips that you can think of in the comments below.
PLANT TREES
We cannot plant enough trees – due to the massive amount of deforestation that takes place in our world every single day, the green cover of our world is dwindling.
SAVE WATER
Water is essential for life, but it is running out at a pace quicker than we can imagine. The remaining water is being polluted to the extent that it is very difficult to reclaim or remediate. So saving water is crucial. If you wish to learn how you can help save water, then check out 10 Easy and Practical Ways to Save Water.
REDUCE FOOD WASTE
A huge amount of food is wasted or lost every single year, which is disappointing as many people in this world are facing famine and starvation. So food waste needs to be reduced as much as possible. If you wish to learn how you can help reduce food waste, then check out 15 Easy and Practical Ways to Reduce Food Waste.
USE PUBLIC TRANSPORT OR BICYCLE TO COMMUTE
Using public transport or a bicycle to commute daily can help you reduce the amount of pollution you release from your vehicles every day a great deal.
DON'T USE DISPOSABLE PLASTIC STRAWS, CUTLERY, CUPS AND PLATES
We all know this plastic will end up in the ocean and kill living things living in that ocean. Do you really want your garbage to be the reason animals die painful deaths? If no, then avoid using disposable plastic things. [Read: The Impacts of Microplastic Pollution on the Environment]
ALWAYS CARRY A REFILLABLE WATER BOTTLE
Instead of buying a plastic water bottle again and again and again every day, try carrying a refillable glass or good quality water bottle so that you don't contribute to the already humongous amount of plastic waste in our ocean and on our land.
REDUCE, REUSE AND RECYCLE
Remember the 3 R's and try to implement them in your daily life. Instead of throwing things away, reuse them or recycle them or give it to someone else who'll reuse or recycle them.
DO NOT HUNT OR KILL ANIMALS WITHOUT A VALID REASON
If you are hungry and can't find anything to eat, then go ahead and hunt. If an animal is threatening to harm you, then go ahead and kill it as a last resort. But don't hunt or kill animals without any valid reason or just for the sake of it. Hunting animals for the "fun" of it doesn't make you cool, it makes you cruel.
PROTECT THE POLLINATORS
Pollinators like bees, butterflies and wasps are dying due to human activities, and they are extremely important for the food production and survival of human beings on this earth. So don't kill these important insects and help them survive by planting more native plants. [To know more: Pollinator Decline of Bees – Causes, Effects and Solutions]
SAVE ENERGY TO SAVE EARTH
A lot of things that are wreaking havoc in our environment find their way back to man's need for energy. We cut trees for firewood, dig out fossil fuels and pollute our environment just to produce energy, but sadly a large portion of that energy is wasted or lost, so use energy efficiently to save energy and to save earth. [Read: Why We All Should Move to Clean Renewable Energy]
I hope you all liked this post! Please comment below if you have any suggestions, comments, or feedback! We at #envpk love hearing from our readers! Thanks!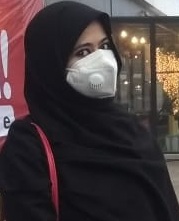 Founder of Envpk.com. A passionate environmentalist and researcher by education and at heart. A proud tree-hugger.
#SaveEarth #GoGreen