Climate Change and Heatwaves in Pakistan:
The impacts of climate change on developing countries have been felt severely in the form of increased extreme weather events and abnormal climatic phenomenon. Pakistan is also one of the countries experiencing its impacts most recently in the form of floods and GLOFs.
For more information check out, Pakistan Flood Mitigation Measures and Disaster Management and Glacial Lake Outburst Floods In Pakistan- Causes and Effects
However, there is another change that is being felt, and that is in the form of heatwaves.
For the last 2 years there has been a record spike in intense summer days and the intensity of the heat as well as the length of the summer period has been prolonged. The atmospheric analysis has predicted similar conditions for summer 2023.
A week which will rewrite climatic history is kicking off in Asia. We will see unbelievable loads of unprecedented heat from Middle East to Japan.
Extremely rarely if hardly ever we can see this kind of anomalies in such a huge area for 10/15 days.
Don't miss the updates here. pic.twitter.com/vyd9XY0Cim

— Extreme Temperatures Around The World (@extremetemps) March 6, 2023
Expected Heatwave in Summer 2023:
As the La Nina finally enters a neutral state and as El Nino is set to return, there is a high likelihood of increased warming in Pakistan. With an intense heat spell in store for us this year, at the same time we can expect news of unprecedented levels of cold from Europe.
You may also like to read: Heatwaves in Pakistan and India- Causes, Effects and Solutions
Although the factors that aggravate the summer season in Pakistan are considered to be carbon emissions in the form of transboundary pollution from India/China and Deforestation. This ultimately ties back to climate change that has exacerbated the summer weather and morphed it into heatwaves. However, the natural pattern of El Nino largely determines the weather and when the pacific ocean has warmed enough, it causes the warmer vapors to move towards Pakistan and the result is a prolonged heatwave compounded by the human sources of pollution. The opposite happens in Europe and Western parts of the planet.
Also read: Global Heatwave- Causes, Effects and Solutions
The Southwestern US in a deep freeze, but many other parts of the world are experiencing extreme heat. (Kyoto will be 75 F this week.) Climate change: Overall average higher temps, but extremes (with extreme cold as well) everywhere.

— Wolf Bein (@wwbein) March 6, 2023
As per analysis of the February outlook reports by the PMD (Pakistan Meteorological Department) there are predictions of unparalleled levels of heat both in intensity and longevity this summer in Punjab.
As it stands, there are predictions from the MET office for heatwaves to start occurring from as early as Mid-March to May 2023.
The seasonal average temperatures for June-August are going to be higher than usual. Throughout the country the precipitation rate is going to be as per usual with the exception of KPK and most of Gilgit Baltistan which will probably experience less rainfall than usual.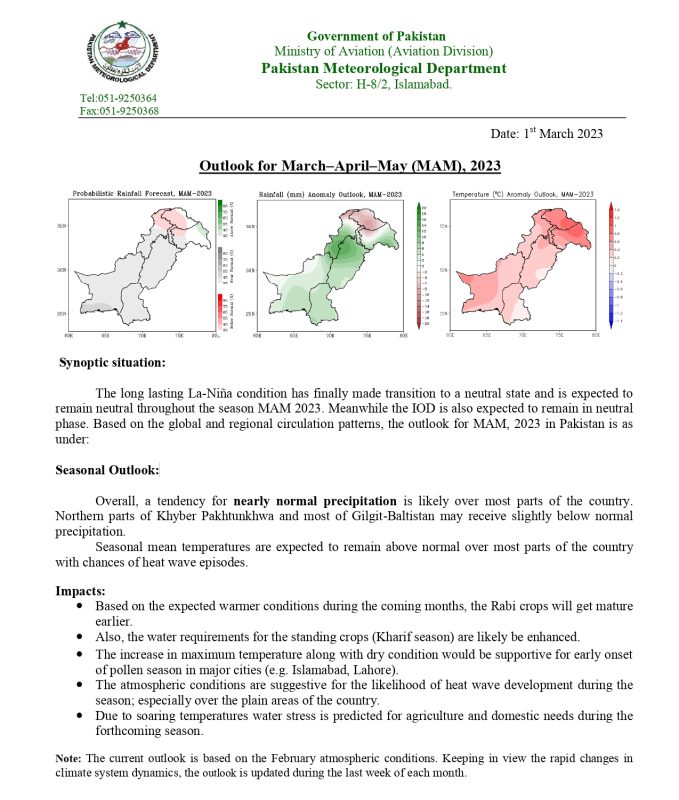 Source: Pakistan Meteorological Department – Outlook for March–April–May (MAM), 2023
Impacts of the Expected Heatwaves:
However, as there are high chances of heat wave episodes this summer season, there are also risks of water stress that would be experienced by farmers.
The Kharif (monsoon) crops that are to be planted in April-May would probably require more water as the precipitation rate may be normal like last year but the average temperature is predicted to be higher. This will lead to more evaporation from the land and less water available for the crops coupled with the low rainfall.
Moreover, as the transitory monsoon window between spring and summer has shortened, it will lead to early onset of summer this year with predicted heatwave episodes starting as Early as March 2023.
Citizens are urged to take proper precautions and safety measures to protect themselves from the Heatwave episodes.
You may also like to read:
Can We Do Something About the Earth Heating Up or Is It Too Late?
Urban Heat Islands- Causes, Effects and Solutions
I hope you all liked this post! Please comment below if you have any suggestions, comments, or feedback! We at #envpk love hearing from our readers! Thanks!
An Environmental Science major interested in creating awareness about all things related to the environment and how we can protect it.