South Punjab, the most deprived region since independence is once again under catastrophic circumstances. Prior, it was  neglected in domains of budget distributions, human developments and infrastructures but now the inhabitants of this region are facing monopolisation, exploitation and irrelevancy even after their deaths. The more the dead count is, the more it generates the monetary aftermaths for the stakeholders of country. The reason why such vicious cycles keep repeating after every decade is the significance of foreign aids and foreign funding that the apparent flag bearers of peace and security gets to exploit victims more than ever before.
You may also like to read: Devastating Impacts Of Monsoon Season 2022 In Karachi
In 2010, Pakistan Floods Emergency Response Plan (FERP) had launched largest humanitarian funding appeal ever. As of 1.9 billion appeal, 69% of it was contributed for the management of flood devastated regions like South Punjab. However, it all got lost in its way. Later progress showed that no dams were built, no irrigation systems were improved, no infrastructures were organised in fact nothing was empowered apart from the status of already in power. Similarly on 8th August 2010, three weeks later after the floods hit Pakistan, the United Kingdom's Secretary of State Baroness Warsi visited Southern regions to see humanitarian situations. Analysing the obvious vacuum for help he directly travelled to United Nations to attend the Special High level meeting on Pakistan floods havoc and to encourage the International Community to assist Pakistan by funding to the maximum level of their capacity to set up urgent humanitarian responses. As a result United Kingdom contributed about 134 millions of dollars. Moreover, the UK based Pakistani community had generously made contributions to give relief to the thousands of Pakistanis but it all went to the representatives of victims rather than to the victims directly where it got scammed. The Report Session of 2010-12 on The Humanitarian Responses To The Pakistan Floods by THE HOUSE OF COMMOMS pointed that how large sum of money contributed by foreign Pakistanis was foregone without being registered as gift aid in hope that it would assist in helping survivals and to rebuild infrastructures but unfortunately it was used to propagate self-motivated programs, to hide unmatchable corruptions and to fool innocents through discourses like IGO's and NGO's.
Learn about: How To Prevent Hazardous Monsoon Season Flooding in Pakistan
Once again in 2022, the climax of the dark scandals is being repeated at its worst with simple twists of banning mainstream coverage to keep dark in dark. Likewise, the funds are being transferred from THE RICH OF THE GIVERS to RICH OF THE RECIEVERS. It is exactly where the deaths of people from regions like Kot Addu, Tuansa Shareef, Dera Ghazi Khan and other wounding parts of the country are being commodified.
Recently, America announced aid of 100,000 dollars to support flood relief efforts and humanitarian assistance to vulnerable communities in the worst effected districts of Pakistan and again there is no explicit plan given by government for the effective spending's of such aids to eliminate future flood threats consequently it will end up further strengthening the accounts of already upgraded.
It's like:  "YOU DIE, WE EARN STRATEGY."
The reason such chains seem unbreakable and cycles at its loop is that during such battles of floods and breads the local politicians also run equally in marathon of getting monopolised heavily from the UPPERS, in return of receiving mere chunks and the promise of solid vote bank. Similarly, the people of south Punjab are trapped in way that for them the solutions of their misery revolves around the hard work of young ones and their courage of their spirits but the time contribution of the youth and the spirits of the people will rise up, they will get hit by the dangers of irrelevancy because of being ignorant of their worth for too long. To decide the fate of south Punjab it needs acceptance, realisation, and rationality of the people now not the courageous spirits and the handwork of generations. However, there is much more to unpack.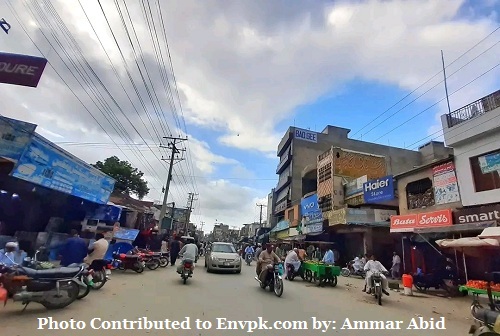 You might also like: Impacts Of Changing Monsoon Season Rains Pattern In Pakistan
The article was written by Mr. Ammar Abid who is a student of Political Science at Quaid-e-Azam University Islamabad. Currently, he is serving as President, Vice-President and Deputy Head for various organisation. He is also a founder of Save Human Foundation. Moreover, he is been selected as research intern at Pakistan Institutes For Conflict and Security Studies. 
We hope you all liked this post! Please comment below if you have any suggestions, comments, or feedback! We at #envpk love hearing from our readers!